Kendall Audiology Teams up with the NFL Players Association before Sunday's Big Game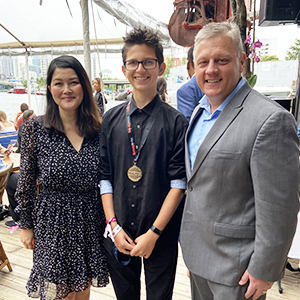 February 1, 2020—Before Sunday's big game, Dr. Daisy Elwick from Kendall Audiology, joined the HearStrong Foundation and the NFL Players Association in Miami, Florida, at Smocks and Jocks, a charitable art auction that benefits the livelihood of former professional football players.
Dr. Elwick is a preferred provider for the NFL Players Association's Professional Athletes Foundation, and partner of the HearStrong Foundation. This allows her to work with professional athletes across the country, spread awareness about hearing care, and share the stories of remarkable people with hearing loss. In Miami, Dr. Elwick nominated one of her patients, Colby Ferris, to be recognized by HearStrong because of his dedication to helping people understand hearing loss.
Founded in 2013, HearStrong is a non-profit organization, sponsored by EarQ and the NFLPA, with a mission to radically challenge the general perception of hearing and inspire a mass hearing healthcare awareness movement. For Colby, hearing aids helped shape him into the confident young man he is today. Colby is a young student athlete and enjoys playing basketball and football. His positive attitude and desire to help others with hearing loss is why Dr. Elwick nominated him to be a HearStrong Champion.
"I've had hearing aids for so long and I never felt different from other people" says Colby. "Maybe that will help others find confidence within themselves."
Organizations such as HearStrong and the NFL Players Association's Professional Athletes Foundation work diligently to provide information and resources for those with hearing loss. By partnering with these organizations, Kendall Audiology is further helping advocate for the 80% of people who have not treated their hearing loss.
Advocacy-focused events like Smocks and Jocks are just one of the ways the NFLPA's Professional Athletes Foundation is propelling the hearing healthcare movement forward. Kendall Audiology's participation with these events helps advocates like Colby broaden their platforms to inspire others to be proactive against hearing loss.
Dr. Elwick explains why events like these are so important:
"Being able to change lives through hearing care is the most gratifying thing I've ever experienced" says Dr. Elwick. "I hope to reach as many people in need for as long as I can."
To learn more about Kendall Audiology and their work with HearStrong and the NFLPA, please call (305) 595-1530.

About Kendall Audiology:
Kendall Audiology has been serving the Miami community for decades, always putting patients first. At the heart of the practice is a team of professionals who bring a wide range of experience and expertise. The professionals at Kendall Audiology believe in a common vision: giving patients the best possible care we can.
About the HearStrong Foundation:
HearStrong was founded in 2013 with the goal of inspiring a mass hearing healthcare awareness movement. An estimated 48 million Americans experience hearing loss. In response to this need, HearStrong began recognizing and sharing the stories of remarkable people with hearing loss. Today, HearStrong's efforts have expanded and the organization partners with hearing healthcare professionals across the country to give people of all ages access to hearing health services.
About the NFLPA's Professional Athletes Foundation:
The National Football League Players Association (NFLPA) is a non-profit, professional sports union that protects the best interests and welfare of all NFL players. It serves as the exclusive bargaining agent for all NFL players in collective bargaining. Established in 1956, the NFLPA has a long history of assuring proper recognition and representation of player's interests. The NFLPA is governed by a Board of Player Representatives, acting in accordance with the NFLPA Constitution and federal labor laws.